Facilitation Specialties:
Process Management
Customer / Stakeholder Satisfaction
Strategic & Business Planning
Program Planning & Evaluation
Performance Measures
Program & Process Assessments
Large Group Facilitation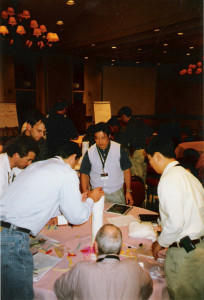 Backed with training from the best in the industry, Jude has firmly established herself among the most talented and established facilitators in the country. As a facilitator, she designs and conducts a full range of structured meetings: from briefings and decision-making meetings to team-building and business-planning meetings to Large Group Facilitation. She also leads feedback/assessment sessions where she works with a team on strategic direction, annual business goals and performance evaluations.
What sets Jude apart from other facilitators is her unique ability to not only establish rapport and the respect of all levels of management within an organization, but also immediately yet seamlessly switch the direction of a meeting as its dynamics change. Her uncanny skills frequently lead to consensus among the most diverse of factions.
Additionally, Jude learns as much as she can about an organization – its corporate attitude, structure and leadership style – to create unique designs customized to fit each group. This extensive knowledge of the company also allows Jude to better facilitate discussions and make well-calculated interventions.
Fill out the form to Contact Jude or call (505) 428-0204.
---
Credentials:
Hundreds of large and small sessions facilitated
Training from National Training Laboratories, Mid Atlantic Training Center
Studied facilitation under Peter Block, Marvin Weisbord, Sandra Janoff, Kathy Dannemiller
---