Coaching Specialties:
Your Career
Corporate Success
Performance Improvement
Small Business Development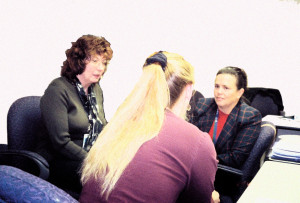 Jude is an executive coach, working with clients on business and professional issues. Within the work domain, Jude takes a whole person focus. She is trained as an ontological coach (our way of being in the world) and has learned that personal change and thus one's successful impact in the world is accomplished best when the entire coherence of the client – language, body, emotions – is addressed. This is brought about on either a short or long term basis.
Some clients have a specific issue or focus for which they want the assistance of a coach. This could be related to learning a new skill, or fulfilling a professional development goal. These engagements last a few weeks or months. They are based on 3 or more telephone coaching sessions for resolution of their concern. Sometimes these single-issue clients become longer term clients. Other times, the relationship is complete and coach and client are mutually satisfied with the outcome.
Other clients, frequently executives or upper mid-level managers, want an ongoing relationship with a trusted advisor. Here, Jude is invited to co-observe their work life and to assess, strategize and reflect deeply with them on their actions and results in the world. These relationships begin with a 6 month to 1 year contract, and many clients have worked with Jude through multiple career changes and many years.
Whether on a short or long term basis, Jude respectfully and effectively works with you to achieve the results you want. Contact Jude or call (505) 428-0204.
---
Credentials:
PCC, International Coach Federation, Professional Certified Coach
NCC, Newfield Institute, Newfield Certified Coach
---